Here's
a link to the laws of forming the letters. Now:

Reish or dalet?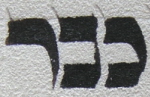 Middle letter: khaf or beit? Kvar or kikar?
I really wanted to make this a proper poll with clicky buttons, but I couldn't figure out how to get the images and the clicky buttons into the same entry, and I wasn't going to spend all night trying to make it work (if someone tells me how, I'll edit the entry).